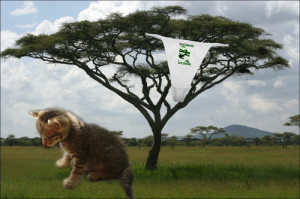 There's been a lot discussion in the development blogosphere lately about fundraising and the images we use to trigger donations. It's a serious conversation, and one that interests me. Exactly how much damage do we do when we use condescending portrayals of poor people in NGO ads? Tales from the Hood has an interesting take on it. So does the Good Intentions Are Not Enough blog. Aid Thoughts has a whole series, and Waylaid Dialectic has the iconoclastic view.
But you know that? The whole debate is irrelevant to my life right now. It's not something I have to think about in my work. Because I work for a company. An employee-owned company that works for the public good, but an actual profit-earning company.
People complain a lot about involving the private sector in development aid, both as donors and as implementers. But I will tell you this: my employer never runs ads featuring scrawny, weeping, big-eyed children. We never have to make sure our logo is in the picture when we take a photograph. Our organizational development department just writes proposals and applies for contracts. No fundraising appeals. No donate link on our website. We don't send anybody address labels and you sure can't sponsor a child through us.
International development companies do have to market themselves. But that marketing is a very different game; it's about looking competent, reliable, and professional in everything they do. They are selling their own skills, not someone else's pain. (And let's be fair here. NGOs don't use heartbreaking pictures because they like to demean people. They use them because they are proven to work. It's what they have to do to get their funding.)
I've worked for NGOs, and the US Government, and universities and the UN and all kinds of places. (I was a consultant; I got around.)  No particular tax status makes for a perfect employer: companies can't do advocacy the way NGOs can, the UN's got bureaucracy like fast food has French fries, and universities treat minor politics like blood sport.
On the other hand, for-profits don't need photo ops. Universities access a nearly bottomless human resource pool and access to cutting edge research. UN agencies have moral authority and sector clout no one else can match. NGOs that do a good job of fundraising can start moving money really really fast when they need to.
This is our field. It has a lot of very different players, with different strengths and weaknesses. I like that. NGOs are not inherently virtuous. Companies are not inherently greedy. It's a all mixed bag of human beings organized in different ways, attempting to do good things. Doing effective work matters a whole lot more than tax status.
(photo credit: #1millionkittensforAfrica)
The usual disclaimer: I am speaking for myself. These are my views and my views alone. I am not in any way speaking on behalf of my company. I believe in what we do, but I do not speak for the company in this or any other instance.